In October 2014 Walter Tull was honoured with a Nubian Jak Blue plaque in Tottenham, where he lived and made his name as a football star. Tull was the first black outfielder to play in the English premier league, making his football debut just around the corner from where the plaque was unveiled in 1909. Years later he would join the army to fight in WWI, becoming the first black British army officer. Former Spurs player Garth Crooks pulled open the curtains covering the new sign. Veterans Garry Stewart, Donald Campbell and Tony Wentley-Martin each spoke about Mr Tull's heroics as an army officer during the First World War.
Neil Fanigan, an RAF veteran, said: "Representing his country as an officer in the British army, that was something, even when you don't consider all the prejudice and racism that was around then.
"He suffered, he had to come back to recover in Tottenham, but he was strong enough and determined enough to go back again, even though it was a vision of hell there."
Carrying out the ceremony, the former Spurs striker Garth Crooks paid tribute to the heroism of an "amazing man," whose recognition had been "a long time coming."
He said: "I just want to thank those people who have been a part of getting Walter Tull to be recognised, to get us to a place where we can be here today and commemorate where this man lived, to understand who he was, and to get people in the area to also recognise him, and the generations to come."
Where is Walter Tull Blue Plaque?
The address is 77 Northumberland Park, Tottenham, London N17 0PG. 
Why was the Walter Tulls Blue Plaque erected in Tottenham?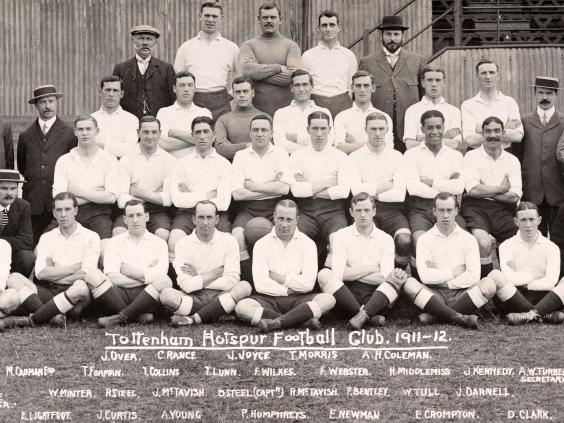 At the age of 21, Tull signed for Tottenham Hotspur in 1909, after a close-season tour of Argentina and Uruguay, making him the first mixed-heritage professional footballer to play in Latin America. Tull made his debut for Tottenham in September 1909 at inside forward against Sunderland, making him the third mixed-heritage player to play in the top division (after goalkeeper Arthur Wharton of Sheffield United, and Billy Clarke of Aston Villa. Tull made only 10 first-team appearances, scoring twice, before he was dropped to the reserves. This may have been due to the racial abuse he received from opposing fans, particularly at Bristol City, whose supporters used language "lower than Billingsgate", according to a report at the time in the Football Star newspaper