Walter Tull BBC Coverage
The BBC has done a fantastic job helping publicise the life of Walter Tull, to the BBCs credit the coverage has been consistent and covers both Walter Tull's football career and his army life. They have also covered the various campaigns for Walter Tull to receive a Military Cross and formal recognition. It's great to see how BBC schools have created Walter Tull Teachers Notes  encouraging teachers to plan lessons that will help to inspire another generation
BBC Schools and Walter Tull
BBC schools explain about Walter Tull helping British teachers prepare their own lessons about his life
Walter had to overcome setbacks in his life. His parents died when he was still a child and he was brought up in a children's home.He still had a family, but he had to make his own way in the world. He had to give up a football career to become a soldier. Walter became one of the first black footballers in Britain. He was only the second professional black player in the Football League. He played football for Tottenham Hotspur and Northampton Town.
BBC schools explain sensitively why Walter Tull did not receive a medal despite being recommended one by senior army officers
At that time Army rules were that only a white, British-born person could be an officer in the Army. In Walter's case, however, the rules were ignored. In May 1917 Walter Tull was 'commissioned' as an officer, with the rank of lieutenant. Walter was sent to Italy and was soon in more fierce fighting. He was praised by his leader, the 'commanding officer', for leading soldiers across a river during a battle. He was recommended for a bravery medal, but never received it. Walter Tull was the first black officer to lead white British soldiers in battle.
BBC Sports Coverage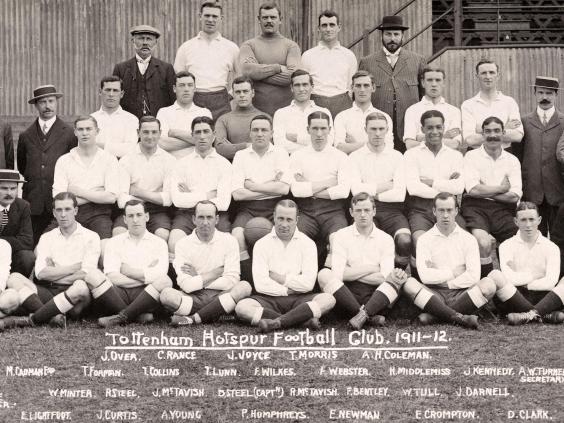 BBC Sport has reported on Walter Tull on several occasions as he was one of English football's first black players. Tull was an orphan who had to overcome adversity all of his life, including being racially abused while a pioneering forward for Tottenham Hotspur and Northampton Town.
BBC Documentary 
BBC Radio 4
Listen to a Radio 4 programme all about Walter Tull
Walter Tull: Football pioneer and war hero
Walter Tull was one of Britain's first black footballers – playing for Tottenham Hotspur and Northampton Town –
and first black army officer. He died, aged 29, on the battlefields of World War One. Over the years there have been calls for him to be posthumously awarded a Military Cross for his bravery in the war and now, on the centenary of his death, more than 100 MPs have signed a letter to the prime minister calling on her to intervene. His great-nephew, Edward Finlayson says it would be "righting a wrong". Source BBC Radio 4
BBC 4 doc Walter Tull Forgotten Hero
Extensive BBC Reporting about Walter Tull
Some of the most popular BBC reporting can be found here:
www.bbc.co.uk/schools/0/ww1/25403975 Walter Tull was a British footballer and soldier who was born in 1888 and died in 1918. He was also the first black officer to lead white British soldiers in battle. Walter Tull was one of many brave soldiers who fought and was killed in World War One. Walter's father was black and he came to Britain from the …