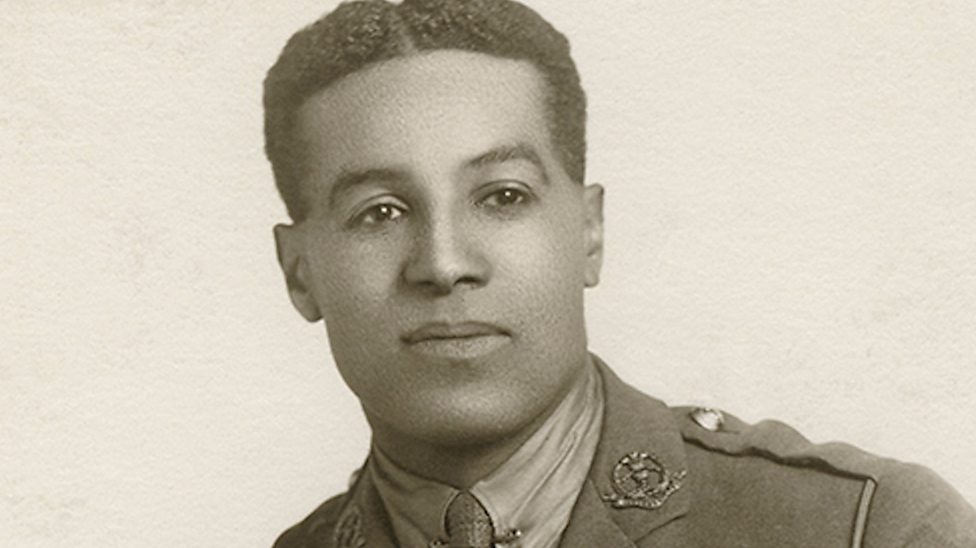 This campaign is to see a remarkable man be awarded a medal that will help put to right some wrongs from the past. The campaign seeks to help bring to light the actions and life of Walter Tull. Join in the campaign to have a statue to be erected in his honour and for Tull to be posthumously awarded the Military Cross.
Facebook Page – Walter Tull 
Walter Tull Professional Footballer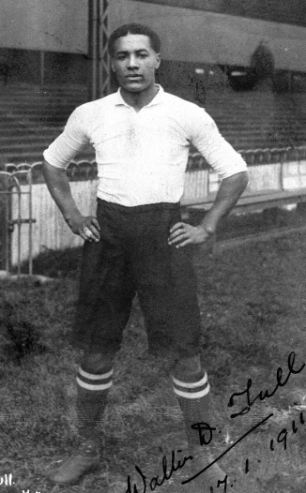 After making his name with the amateurs of Clapton, Tull had enjoyed early success at Tottenham making 20 appearances, scoring four goals, before he was purchased by Herbert Chapman's Northampton in 1911. In spite of the racism he faced from opponents and opposition supporters, he played more than 100 times for the club and became an established member of the side which regularly challenged at the top end of the Southern League. More at Guardian newspaper
Walter Tull began his football career at east London amateur side Clapton, where he would win the London Senior Cup, the FA Amateur Cup and the London County Amateur Cup during the 1908/09 season. His short time at Forest Gate came to an end soon after when he was invited to join Tottenham Hotspur on their pre-season tour to South America in the summer of 1909. Impressing sufficiently, Tull was offered professional terms by the club and duly signed ahead of the 1909/10 campaign.
Handed his debut in a 3-1 loss at Sunderland on 1 September 1909, Tull soon won praise for his early performances but would also face considerable prejudice and racial abuse from the terraces.  After making a further five appearances, Tull was dropped from the first team and would not play again until 24 December 1910 when Spurs won 3-1 at Nottingham Forest. He would then score in 1-1 home draw with Manchester City three days later before making his final appearance for Tottenham in a 2-0 defeat at Woolwich Arsenal. Soon after, Tull left White Hart Lane to sign for Herbert Chapman's Northampton Town. Source: Football and The First World War
The move to the County Ground would prove to be the defining moment of Tull's career and after making his debut against Watford on 21 October 1911, he would go on to become an integral part of Chapman's side. Over then next three seasons, Tull would score nine times in 110 games and flourished further still when his manager switched him from his traditional half-back role to inside-forward. By the time he played his final game for Northampton, Tull had become one of the club's most popular players.
Walter Tull British Army Soldier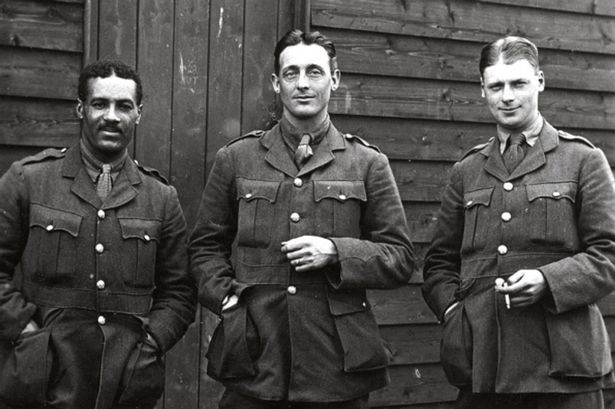 When the First World War broke out, be became the first Northampton player to sign up to join the 17th (1st Football) Battalion of the Middlesex Regiment, and in November 1915 his battalion arrived in France.
The Army soon recognised Tull's leadership qualities and he was quickly promoted to the rank of sergeant. In July 1916, Tull took part in the major Somme offensive. Tull survived this experience but in December 1916 he developed trench fever and was sent home to England to recover.
Tull had impressed his senior officers and recommended that he should be considered for further promotion. When he recovered from his illness, instead of being sent back to France, he went to the officer training school at Gailes in Scotland. Despite military regulations forbidding "any negro or person of colour" being an officer, Tull received his commission in May, 1917.  See 100 Great Black Britons
When the First World War broke out, Walter abandoned his football career to join the 17th (1st Football) Battalion of the Middlesex Regiment. During his military training, Walter was promoted three times. In November 1914, as Lance Sergeant, he was sent to Les Ciseaux in France.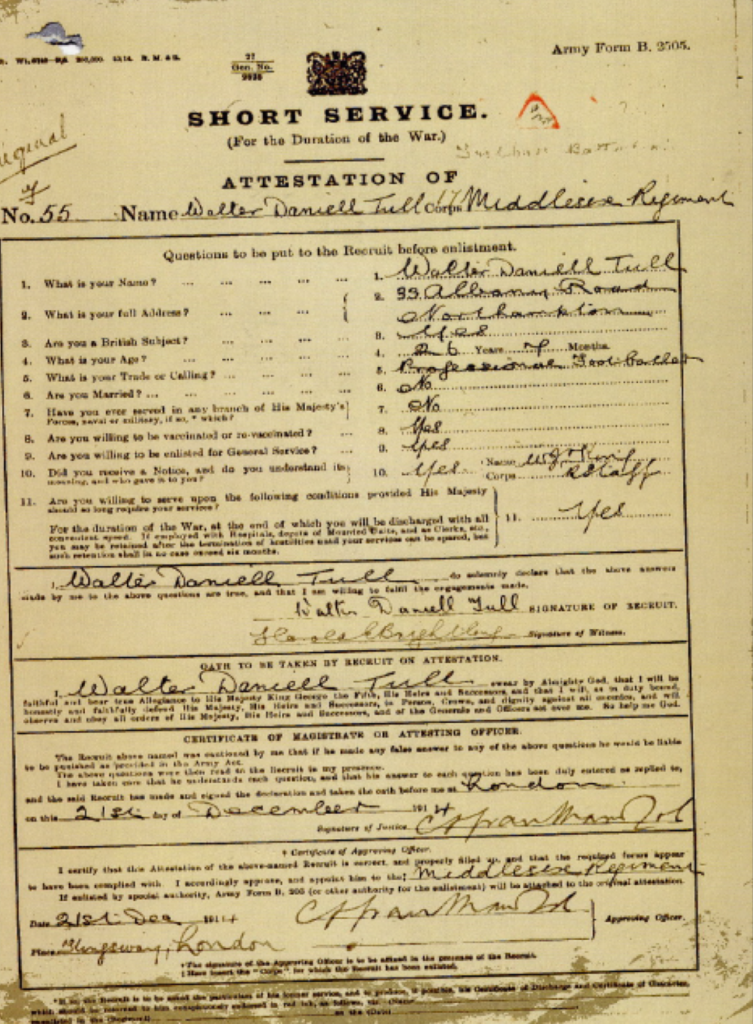 In May, 1915 Walter was sent home with post-traumatic stress disorder. Returning to France in September 1916 Walter fought in Battle of the Somme, between October and November 1916. His courage and abilities encouraged his superior officers to recommend him as an officer.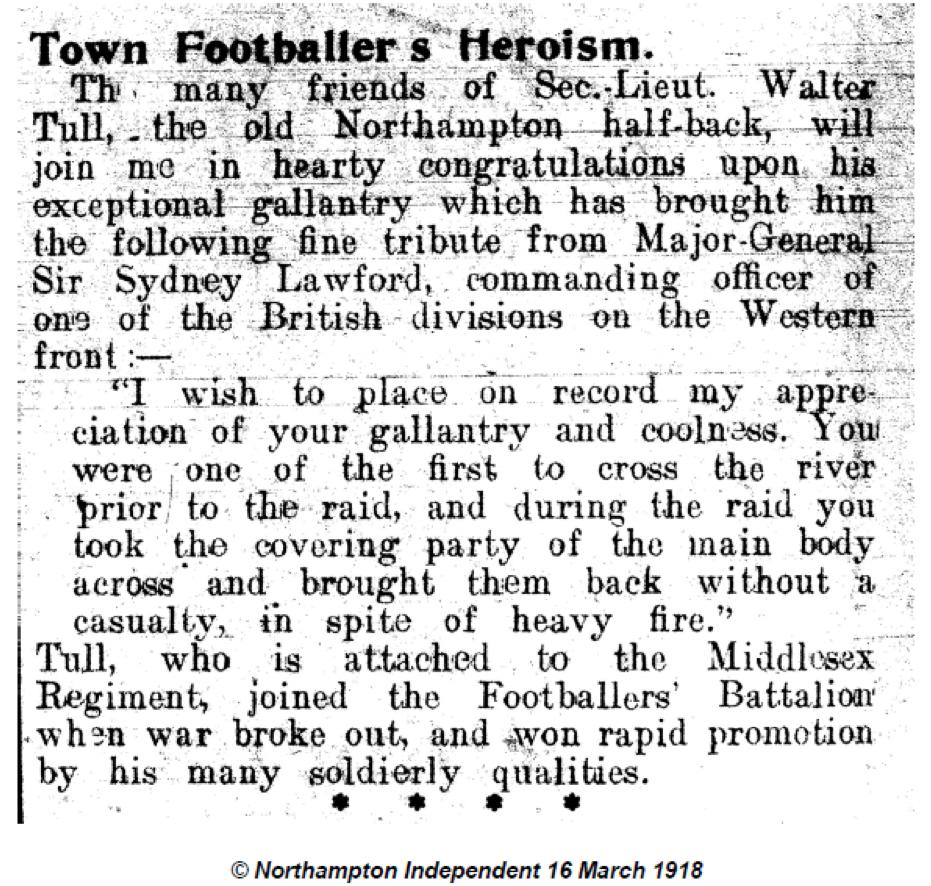 On 26 December, 1916, Walter went back to England on Leave and to train as an officer. There were military laws forbidding 'any negro or person of colour' being commissioned as an officer, despite this, Walter was promoted to lieutenant in 1917. Walter was the first ever Black officer in the British Army, and the first black officer to lead white men into battle. Walter was sent to the Italian Front where he twice led his Company across the River Piave on a raid and both times brought all of his troops back safely. He was mentioned in Despatches for his 'gallantry and coolness' under fire by his commanding officer. He was recommended for the Military Cross but never received it. After their time in Italy, Walter's Battalion was transferred to Somme Valley in France.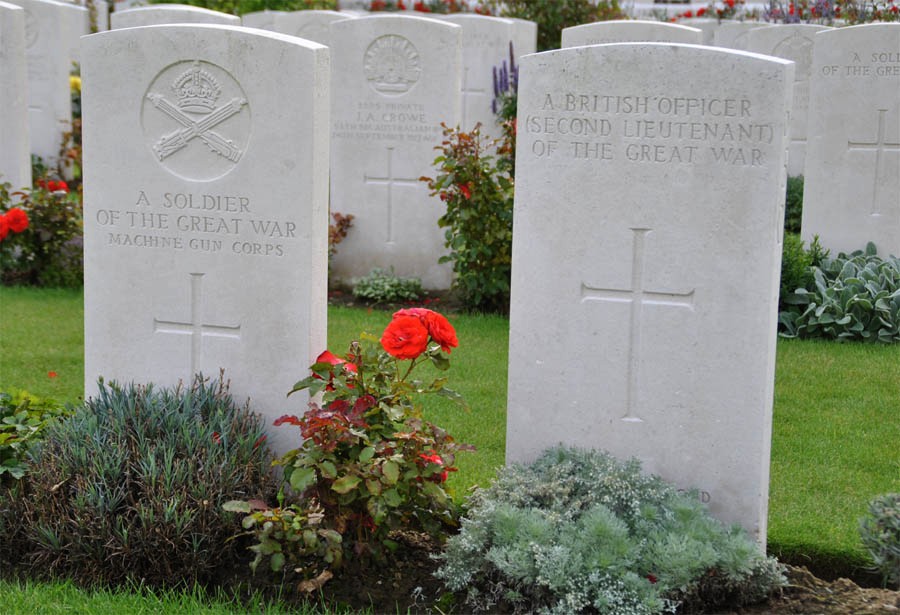 On 25 March, 1918, Walter Tull was killed by machine-gun fire while trying to help his men retreat. Walter was such a popular man and several of his men risked their own lives in an attempt to retrieve his body under heavy fire but they were unsuccessful due to the enemy soldiers advance. Walter's body was never found and he is one of the thousands of soldiers from World War One who has no known grave. He died in No Man's Land. "A machine-gun bullet pierced his neck and came out just beneath his right eye," a newspaper later reported.